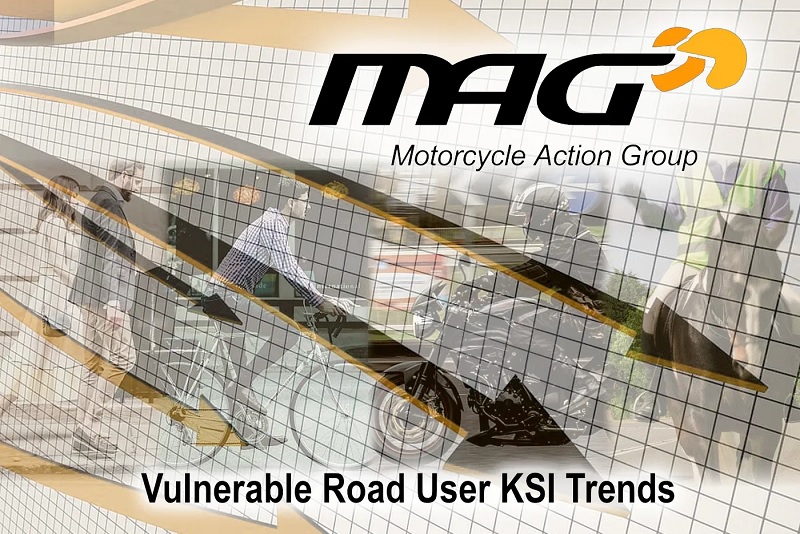 The Motorcycle Action Group says motorcycling is 'getting safer', and therefore 'long standing prejudices are not legitimate and must be challenged'.
MAG's comments come on the back of new analysis it has carried out to establish whether the safety of vulnerable road users – motorcyclists, pedal cyclists, horse riders and pedestrians – is improving or getting worse.
The study carried out by MAG looks at trends in casualty statistics among these groups over the five year period 2015-2019.
The analysis shows motorcyclist KSIs reduced in all GB regions across the five-year period.
Meanwhile, KSIs among motorcyclists, cyclists and pedestrians significantly reduced in Lancashire, while pedestrians fare worst in Lincolnshire.
MAG says the KSI rate per billion vehicle miles 'flipped' in London in 2019, with the rate for cyclists becoming 'slightly higher' than that for motorcyclists.
MAG says its findings 'open the way for a fresh perspective on VRU road safety'.
Colin Brown, director of campaigns & political engagement at MAG, who authored the report, said: "This analysis looks at regional and local authority levels and we found that national figures hide wide differences across the country.
"We will go on to look at road safety approaches and campaigns on the ground. By finding any differences at local level, we hope to identify what works and what doesn't."
Colin Brown added: "Commentary on motorcycling tends to be negative. I have shown in this analysis that there is cause to challenge that attitude.
"We all want to see more work done to improve the safety of riders; however, motorcycling policy and safety needs fresh perspective.
"MAG is working to promote the many benefits of motorcycling, but the critics habitually position safety as a blocker.
"In reality, motorcycling is getting safer. Therefore, long standing prejudices are not legitimate and must be challenged."
The MAG study has been welcomed by other VRU stakeholders including the British Horse Society, Living Streets and British Cycling.
---
12 November 2020