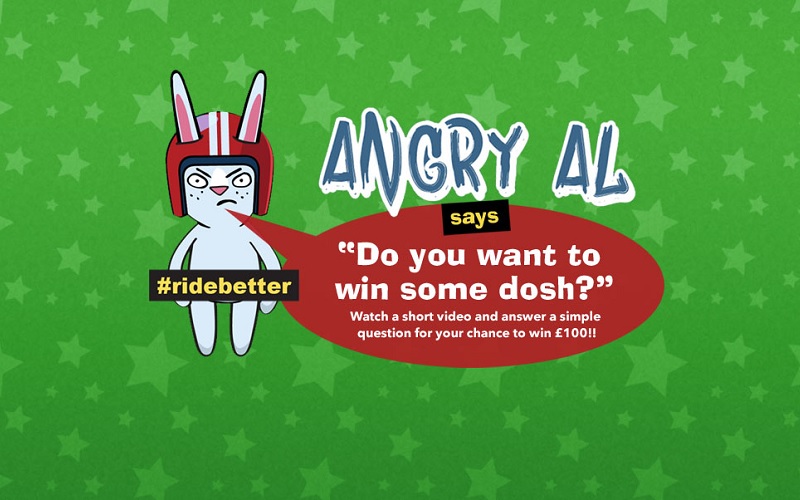 Riders across London are being encouraged to test their observational skills – with the chance to win a £100 gift voucher.
The 2Wheels London festive competition poses a simple question – the answer to which is hidden in the Angry Al video demonstrating the importance of wearing the correct gear (featured below).
Those who answer correctly will be entered into a prize draw to win a £100 gift voucher for either Game, JD Sports, Amazon or Infinity Motorcycles.
Two other winners will be selected at random – receiving £50 and £25 vouchers respectively.
Click here to enter the competition, and here to read the terms and conditions.
Angry Al returns to highlight importance of protective gear
Angry Al is the central character of phase one of the #RideBetter social media campaign, launched by 2Wheels London earlier this year to resonate with young riders and positively influence their decision making.
The campaign comprises eight films which encourage riders to use the roads in a manner that gives them the best chance of staying safer and avoid being involved in a collision.
In total, the films have been viewed approximately 140,000 times across various social media platforms.
Liz Brooker MBE, chair of 2Wheels London and Road Safety GB, said: "In developing the Angry Al films we wanted to create something different to the traditional 'this is how you do it' road safety film.
"Most riders know what they should be doing but make the decision not to do it, so we're trying to show the positive behaviours.
"This competition will highlight the importance of wearing the correct protective gear – while giving riders the chance to win an exciting festive present."
---
02 December 2019