By Colin Brown, Director of Campaigns and Public Engagement, MAG
Colin Brown, MAG's director of campaigns and political engagement, looks at the numbers behind moped and pedal cycle enabled crime - asking which poses a bigger problem in the Capital.
---
For a number of years, the term moped enabled crime has annoyed and riled us, but new figures released by London's Metropolitan Police show that pedal cycle enabled crime is now a bigger problem in the Capital.
A question put to the mayor of London by a Greater London Assembly member, Cllr Susan Hall, elicited a FOI response from the Metropolitan Police Force.  I reviewed the spreadsheet of data, not really expecting to learn anything new, but got a bit of a surprise.
Moped enabled crime has been a depressing phenomenon for a few years now, not least because the muppets using the term have never accepted that the thugs are on scooters, not mopeds.  To be clear we are not talking here about the theft of motorcycles, scooters, mopeds or any other form of powered two-wheeler, private light vehicle, L-cat, micromobility or whatever else you want to call it vehicle.
We are looking at the statistics for crime carried out whilst mounted on those vehicles.  All manner of crimes come under the heading of moped enabled crime.  The full list of 43 offence codes are grouped into 12 categories as follows: arson and criminal damage, burglary, drug offences, miscellaneous crimes against society, other accepted crime, possession of weapons, public order offences, robbery, sexual offences, theft, vehicle offences, and finally violence against the person.
Of all the categories, theft is the most represented for moped enabled crime accounting for 56% of all recorded moped enabled crime from November 2016 – October 2019.  This is your classic mobile phone snatching that was the source of enough concern for the Home Office to set up its round table on moped enabled crime.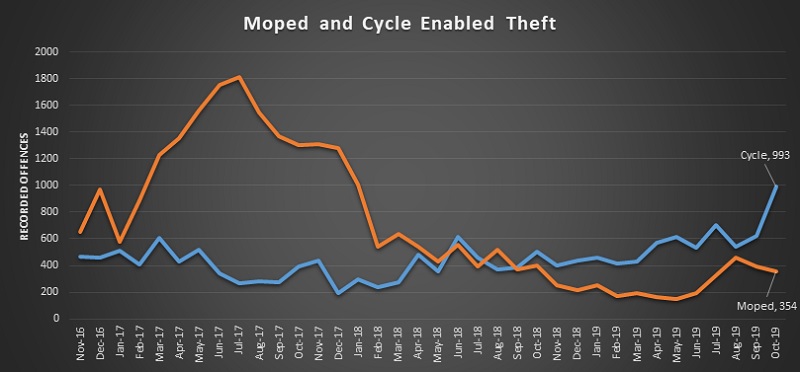 Moped enable crime peaked in July 2017 with 2,593 recorded offences in that month alone, 1,815 of those being theft.  Fast forward to December 2018 and thanks to Operation Venice there were just 270 offences, 214 of which were theft.  As I reported in issue 85 of the ROAD there have been signs that things have started heading in the wrong direction again and for October 2019, the last month that the released figures cover, total offences were back up to 853 for the month, 354 of which were theft.
These were the details I initially saw in the spreadsheet from the Met – nothing new I thought until I noticed a tab for cycle enabled crime.  Now this was a bit more of a surprise.
In July 2017, when the moped crime was at its peak, cycle enabled crime recorded just 509 offences of which 267 were theft. But looking at October 2019 total offences for pedal cyclists was 1,401 - 993 being theft.
So we are in a situation where by October of last year there were nearly three times as many phone snatches from pedal cycles as scooters.  Theft made up 66% of cycle enabled crime across the three year period.
Cycle enabled crime has a way to go before it reaches the epidemic levels that moped enabled crime reached in 2017, but looking at the recent trend it is clearly outstripping moped enabled crime.  Could it follow the pattern we saw with the scooter gangs?
One wonders whether the MET will be considering tactical contact when it comes to cycle thugs in 2020.