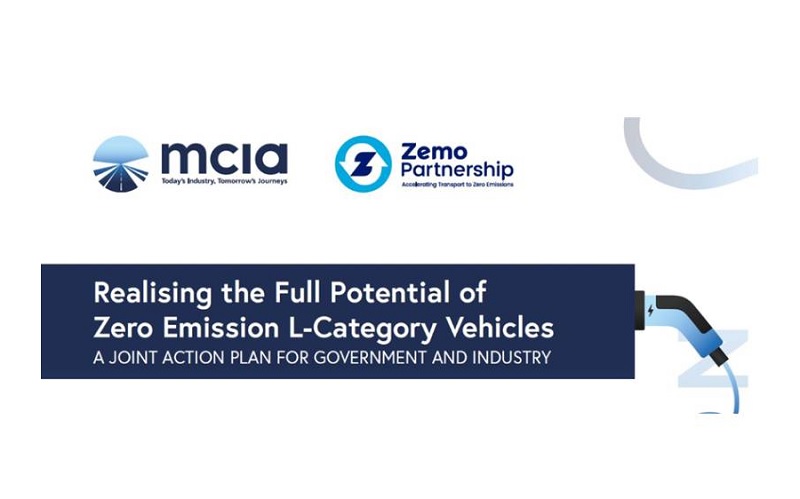 The Government says a new Action Plan shows it is determined to 'find the right place' for zero emission powered light vehicles (PLVs) within the green transport revolution.
As part of its Transport Decarbonisation Plan, which includes a pledge to phase out the sale of new conventionally fossil fuelled PLVs by 2035, the Government tasked the Motorcycle Industry Association (MCIA) and transport decarbonisation specialists, Zemo Partnership, with identifying the actions needed to enable the sector to 'realise its full potential' in the future transport mix.
The new Action Plan, published by the MCIA on 2 February, sets out the findings of this work – with a series of recommendations designed to remove barriers to the uptake of zero emission PLVs.
This includes areas such as updating the current grant and incentivisation structure and conducting a public awareness campaign to promote the existence, availability, and benefits of zero emission PLVs to consumers and businesses.
The plan also calls for a review of existing L-Category vehicle regulation to ensure it remains fit for purpose and caters for the evolution of future zero emission PLVs, including assessing the potential for a new vehicle category.
Trudy Harrison, transport minister, said: "I fully welcome this Action Plan which sets out opportunities to support the resurgence of the UK's iconic motorcycle industry and put us one step closer towards making our air cleaner and lives healthier.
"As we power up the green revolution, we are determined to find the right place for zero emission PLVs within our transport network and believe they can offer an affordable, convenient and sustainable way to travel, while helping to cut congestion in our towns and cities."
Tony Campbell, MCIA CEO, said: "Traditionally, powered two-wheelers and other types of PLVs have often been absent from national and local policy development due to an underappreciation or lack of awareness of their potential benefits to the environment.
"It is testament to the industry and all it has done to showcase its decarbonisation credentials that it is now regarded as a serious mode of transport for consideration alongside others, where appropriate, in the future of our transport ecosystems.
"Today's launch of the Action Plan is a landmark day for our sector, and we look forward to continuing our work with the Government and industry to ensure the full and proper implementation of the Plan's recommendations throughout 2022 and beyond."
---
08 February 2022