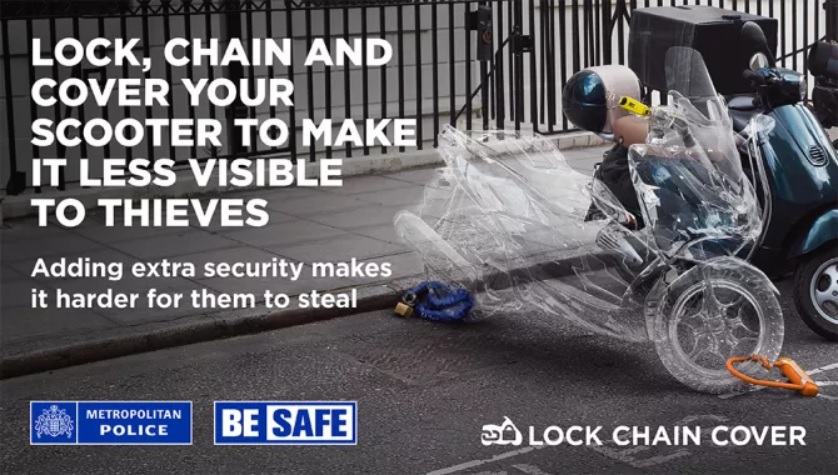 The Metropolitan Police has launched a new campaign calling on riders to join the fight against scooter related crime by reducing the risk of their bike being stolen.
The 'Be Safe' campaign urges powered two wheeler (PTW) riders to use extra security – including locks, chains and covers – to make their vehicles 'less visible to thieves'.
The new campaign supports Operation Venice, the Met's response to scooter, motorcycle and moped-related crime and is particularly targeting the boroughs experiencing the highest levels of scooter theft.
Be Safe advises riders to:

Lock: use a disc lock to help secure the front brake disc, or a grip lock to secure the brake and throttle controls.

Chain: use a chain lock through the back wheel (the front wheel can be removed). Secure your bike, with the lock taut to an immovable object such as a ground anchor or street furniture.

Cover the bike as it makes it less attractive and harder for thieves to steal.



In 2017, more than 14,000 stolen PTWs were involved in nearly 23,500 crimes, including robberies, burglaries and theft-snatches.
In October 2017, the Met introduced a range of new tactics including scrambler bikes, automatic tyre deflation devices and DNA sprays – which it says is making a difference.
Figures show that since spring/summer 2017, PTW theft has reduced by 52%; while crimes committed using these vehicles have reduced by 47%.
Assistant commissioner Martin Hewitt from the Met, said: "We have put a huge amount of effort into stemming the rise in moped-enabled crime, and are now seeing reductions, which is great.
"However, we are not complacent. All the new tactics and technology we have introduced will be backed up by really proactive policing.
"We will keep arresting offenders and running proactive intelligence led operations to make the streets more hostile for criminals to operate. Also, through focusing our efforts on dismantling markets for stolen goods we will make these crimes less financially beneficial.
"I'd like to ask all scooter or moped users in London to become a part of our effort to make life harder for these criminals. Lock, chain, and cover your bike when you leave it. It is simple, yet effective, and if it makes a thief think twice before stealing your bike then it's worth it."
Tony Campbell, CEO of the Motorcycle Industry Association (MCIA), said: "The motorcycle industry is working closely with the Metropolitan Police and the Home Office to help tackle scooter theft and associated crimes, and spread the message that locking and covering a motorcycle or scooter will make it a less desirable target to opportunistic thieves.
"We are therefore calling on all owners of powered two wheelers and everyone working in the industry to get behind a culture of always using physical security."
---
29 March 2018