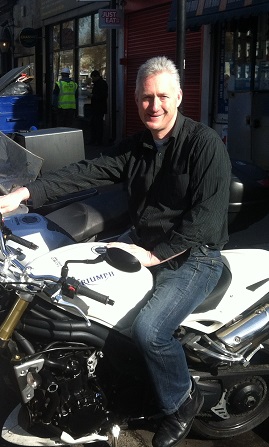 In his latest blog post for 2Wheels London, Lembit Öpik – director of communications and public affairs for the Motorcycle Action Group (MAG) – reviews the reality behind collision statistics in the UK.
Born in Northern Ireland, the former Liberal Democrat MP has been riding motorbikes since 1980, and has campaigned on pro-biking matters since 1997.
He joined MAG – the UK's leading riders' rights organisation – as director of communications and public affairs in 2013.
In his blog post, Lembit talks about how casualty figures have flatlined since 2012 – suggesting there is a 'floor to how low road deaths can go' – but acknowledges the UK has the lowest deaths per kilometre in the European Union.
He says it is MAG's belief that there is very little possibility to reduce these levels further without a radical breakthrough.
Lembit adds there are only two avenues that can be meaningfully pursued to reduce casualty figures: 'either there is a great leap forward in terms of technology' or 'we ban some or all road travel, or at least severely restrict it'.
Lembit writes: "You may feel that there is a way to reduce accident casualties further for bikers and car drivers. Let us know. We are open to alternative perspectives. 
"In the meantime, MAG suggests that the UK has gone low as we can cost-efficiently go with road safety. The implication is clear. 
"It is not wise to pretend we can effectively eliminate KSIs – killed and seriously injured – and the only thing that's really achieved by ever more stringent safety limits is a limit on our liberty."
Lembit concludes by saying that while MAG doesn't want any rider to die on a motorbike, it also accepts that life is a risk calculation. 
He says: "At some point, the 'actuarial risk' versus cost of reducing it are roughly balanced. We believe that point is now."
---
25 March 2020