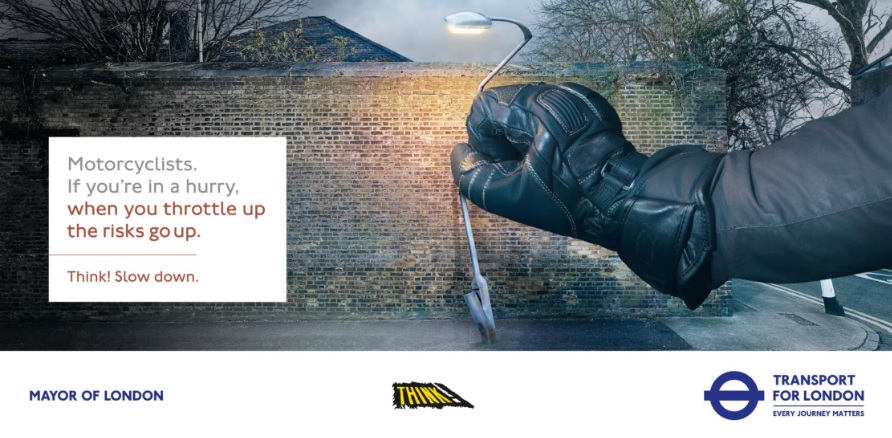 Transport for London has launched a new campaign to highlight the dangers drivers and motorcyclists pose when travelling at inappropriate speeds.
Launched on 8 May, 'Risk Up' warns drivers and riders that travelling too fast for the condition of the road increases the risk of injury to themselves and other road users.
The campaign carries two slogans: 'Drivers. On built-up streets, when your foot goes down, the risks go up', and 'Motorcyclists. If you're in a hurry, when you throttle up the risks go up'.
TfL says that in 2016, there were 804 collisions resulting in death or serious injury as a result of illegal and inappropriate speed in the Capital, with 329 of these involving a motorbike.
The new campaign reminds motorists of circumstances in which they can 'inadvertently' drive or ride at an inappropriate speed, including in built up areas and when going round corners.
TfL points to the Highway Code which recommends reducing speed when:
Sharing the road with, for example, pedestrians or cyclists

The road layout or condition presents hazards, such as bends

Weather conditions make it safer to do so

Driving at night, as it is more difficult to see other road users
Christina Calderato, head of delivery planning at TfL, said:
"It is vital to change attitudes towards driving at speeds not suitable for the conditions of the road.
"Motorists who drink and drive are seen as behaving in a dangerous and selfish manner with little regard for the safety of other people.
"However, those who drive too fast are often not regarded in this way, unless they grossly exceed the speed limit.
"By clearly explaining the dangers, in the way that has been done for drink-driving, Risk Up aims to work towards a general acceptance and ownership of the problem of inappropriate speed. Just because it's legal doesn't mean it cannot be fatal."
---
09 May 2018