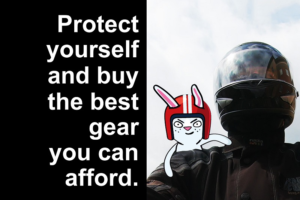 2Wheels London has launched a new social media campaign to help riders stay safe this winter.
The campaign utilises the popular 'Angry Al' character and runs until 22 December.
Between now and then, a number of posters will be shared on social media, aiming to encourage riders to use the roads in a manner that gives them the best chance of staying safe and avoid being involved in a collision.
These touch on subjects including gear, maintenance, junctions and speed.
A toolkit highlighting the schedule of posts is available via the 2Wheels London website.
They will be shared on Twitter, Facebook and Instagram.
Angry Al is the central character of the #RideBetter social media campaign, launched in 2019 to resonate with young riders and positively influence their decision making.
The campaign comprises eight films, which can also be watched on the 2Wheels London website.
In the films, Angry Al acts as the 'devil on your shoulder' encouraging bad riding behaviours.